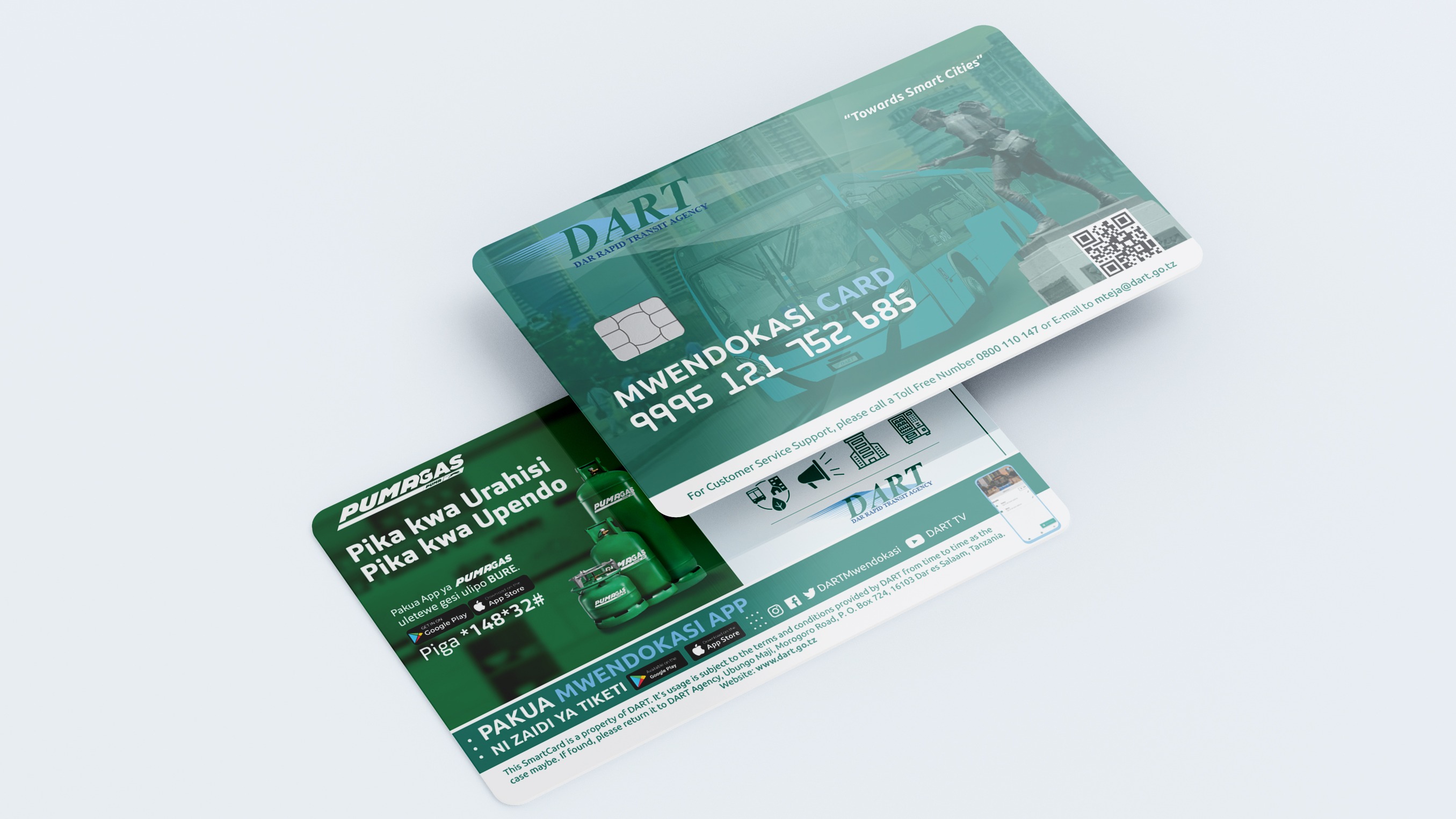 What is Mwendokasi Card?
This is the contactless smart card that is used for fare payment in Dar Es Salaam BRT system
| | | | |
| --- | --- | --- | --- |
| | | | |
| Save Time | No need to carry cash | No need to carry cash | Avoid Long Queue |
How do I get Mwendokasi Card?
Visit BRT stations and Terminal
Mwendokasi Card limits and fees
The maximum topup card load/balance, cannot exceed Tsh 30,000/=
The minimum topup balance is Tsh 1,000/=
How Much does Mwendokasi Card Cost ?
Mwendokasi Card Can be obtained by paying Tsh /= . This price includes the initial topup
How do I Top up Mwendokasi Card?
To top up fare, visit BRT offices at stations and terminals.
Due to advanced technology, prepayment of bus fare using mart cards can also be done by using mobile money transactions such as M-Pesa, Airtel Money, Tigo-Pesa and others.
To top up fare in your mobile phone, follow carefully the procedures laid down for the transaction;and in case of any doubt do not hesitate to consult authorized officers in the DART stations or terminals and other selling booths.
Replacing your card
If your card is lost, damaged or does not work, you can apply for a new card by producing your proof of identity linked to the card. The remaining amount on your lost card will be transferred to your replacement card.
You will have to pay again for the replacement card. You will have to wait for 7 days for the balance transfer. To replace your card, please visit any BRT station or terminal
Important things to know about Mwendokasi Card
You cannot use this card to access or buy goods or services by telephone or on the Internet.
The balance on the card will immediately be reduced with the amount of each card transaction.
As the card can be used offline, the balance on the Card can only be provided, without delay, where the card is present.
How do I use Mwendokasi Card ?
Tap your card or electronic paper ticket on turnstile until you see a green arrow allowing you to proceed.

While in a Bus Station, wait for the bus to stop at the boarding platforms.

While boarding the bus, mind the gap between the platform and the bus.

Please spare all seats dedicated for special groups such as people with disabilities, maternity cases and elders.

Keep in mind buses come in schedule. So do not scramble for.
Don't Pay for a Penalty

Make sure you use a validator correctly. You will be charged a penalty if:

- You have tap in but didnt to tap out.

You have tap out but didnt to tap in.

- You have overstayed in the system (More than 90 minutes after tap in).

The penalty cost Tsh 1,000/=